Option 1
You can pay fees in instalments by clicking the below mentioned link. You would be only able to do so online through debit card/credit card/net banking or UPI.
Link
Your registration number is your enrolment number and suffixed by A for first instalment, B for second instalment and C for the third instalment.
e.g. your enrolment number is IUxxxxxx123 then for the first instalment of your fees, your registration number will be IUxxxxxx123-A, for second instalment it is IUxxxxxx123-B and for the third instalment it will be IUxxxxxx123-C.
The online payment received will be mailed to you by PayU money. The final receipt you will receiving in your ERP once all the three instalments are paid by you.
Option 2
If any students/parents want to pay the full fees, there is no change in the payment procedure. He/she will also be able to pay the fees online by login into ERP, through various options of Net-banking, by Credit or Debit Card, UPI or by depositing DD/Cheque etc. at any branch of the ICICI Bank, all over India.
You are required to go on following link which will provide you all the details of various modes of fees to be paid:
Fees payment Instrcution (Through ERP)
Bank Charges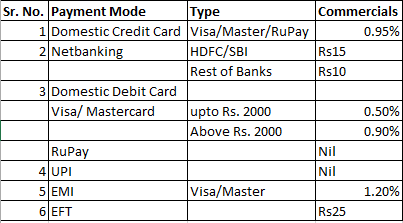 ---